With the holiday season in full force, it's time to embrace the magic of Christmas and get wrapped up in all the Christmas decor hacks bliss. Yes, the sound of carols being belted out in the shops, traditional recipes being shared, decorations everywhere and the Christmas spirit of peace and happiness being shared among people all around the world. Christmas is my absolute favourite time of the year.
It's a time of love, a time of abundant joy and a time for making memories. It's a time for showing gratitude for the many blessings bestowed upon us. We need to take time to cherish our families and loved ones.
There is no better way of ringing in the season than filling your home with all the fun and beautiful decor that embraces the essence of Christmas. With these DIY Christmas decoration hacks you can get into the Christmas spirit by adding festive touches in and around your home
7 affordable and easy Christmas decor hacks to get you into the festive spirit
1. Mason jar chocolates
There are a variety of amazing DIY projects for Mason jars but this is one of the cutest! This is a great gift to give out to work colleagues, school teachers or gym buddies. A very easy to make and thoughtful gift idea that could be used to give out to party guests as favours or to be scattered around your home and saved until Christmas day festivities.
2. Mason jar candles
There are just so many things you can do with a mason jar! These stencilled candle holders are perfect to add to the Christmas spirit. You can find step by step instructions and stencils over at Soap Box creations.
3. DIY Snow Globe
Fill a jar with fake snow and a little water to make your very own snow globe! You can add any tree, figurine, ornament or pretty item that you might have around your house to add to the Christmas cheer.
4. Christmas Lantern
You can convert one of your Lantern's into an adorable piece of decor. Rather than a candle, you can fill the lantern with fake snow and any suitable decorations that you might have lying around to create the perfect piece for in and around your home.
5. DIY Christmas tree
This is one of the simplest and most effective decor ideas. With just a sturdy branch, spray paint and a small glass bottle or vase, you can make your very own Christmas tree. This will look beautiful on any surface around your home. You can then finish it off by adding a few tree ornaments.
6. Chalk Pen Galvanized Buckets
This is a great idea to decorate your outside terrace. Fill a few galvanized buckets with fresh pine and then write your christmas message using chalk. In the image below each bucket symbolises a different letter. You can finish it off by adding some ribbon to each bucket.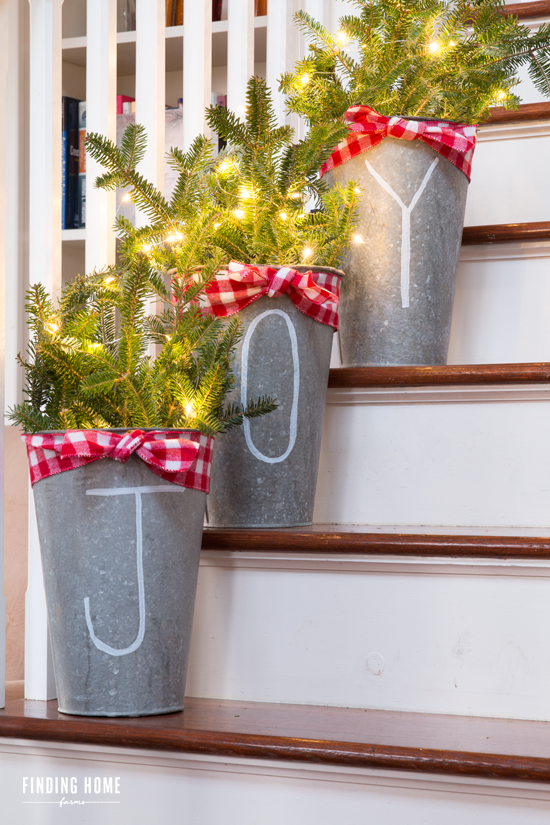 7. Popsicle stick snowflakes
With just a few popsicle sticks, you can arrange, glue and spray paint the sticks to create an indoor wall scene. This is one of the most simple and stunning of all the Christmas decor hacks,  that can completely transform your festive theme.